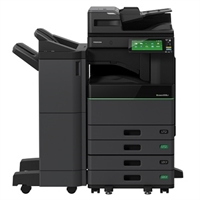 e-STUDIO4508LP
The idea of a paperless office has been around for more than 40 years, yet today's business workflows still require a fair amount of documents to be printed. Toshiba now has a great solution for companies that want to be ecologically concious and still be efficient and economical.

One single system can print in black and white as well as in
erasable blue. For you, this means you can use the Hybrid MFP
just like any other monochrome device to print in black. You can
chose from a variety of paper feed and finishing options to
cover all of your needs. Our erasable blue toner allows you to
reuse the paper you have printed on, so that you can use less
paper, without having to print less. Reducing paper usage will
save natural resources, reducing your company's footprint and
also helping you save money.
Network Ready
EnergyStar Qualified
Speed: Up to 45 ppm
Optional Dual Scan Document Feeder
Customizable tablet-like interface
Brand :
Toshiba
Category :
B&W MFPs